It's always best to assume a lack of knowledge, so I'll explain. Inbetweeners is the massively popular (at least in the UK and probably Europe) movie of the cult tv series which it brings to a conclusion. The inbetweeners of the title are 16-18 year olds who aren't the cool kids (cf. cult TV series Skins) or the jocks (sport not Scots) or the geeks. They are just the ordinary kids muddling along trying to grow up and making a bad job of it.
Submarine is a World War 2 story about a teenage boy who lied about his age to get a place on a submarine which is protecting the Atlantic convoys from the U-boats.
No, it isn't.
Submarine is a metaphor for the protagonist who spends more time submerged in his own little world than in the real one. I think. It's a little known, but critically praised, film about a 15 year kid in a small Welsh town who, if he could get his head out of his arse would be an inbetweener in a year's time. And I watched both of them within a week so it only seems reasonable to do a compare and contrast.
Both are supposedly comedies but comedy is an unfair label to lumber Submarine with as it's a much more inward looking film. Whereas Inbetweeners is a bust your gut 100 gags a minute. Our heroes, now free from school, go on holiday to Malia, Greece (but it's really filmed in Magaluf Spain where they changed all the signs and stuff to read Greek. Why they didn't just change the film's location to Magaluf and save a lot of time, money, and effort I don't know).
I can't really explain all the ins and outs which are dependent on three series worth of continuity but there is a linking thread about our heroes making friends with four girls over the course of the film. A missed opportunity I feel would have been to make the girls more sophisticated counterparts to the gang instead of normal intelligent young women. But the writers didn't so there. As any viewer of the series would expect there are almost countless jokes about sex, bodily fluids, unwanted nudity, copious drinking, and more. Some scenes are so excruciatingly embarrassing as to be almost unwatchable: almost. And that's par for the course anyway. It all rounds off the series very nicely at the end.
Credit is due to all the cast -lead, supporting, and extras- who make you believe it really is a hot summer and not three degrees above freezing point -watch a making of and see the thick jackets and hot drinks appear as if by magic the instant the director calls Cut! There's a nice cameo by the always likeable Anthony Head whose daughter plays Carli, one of the main ongoing characters and who displays a promising talent in the process.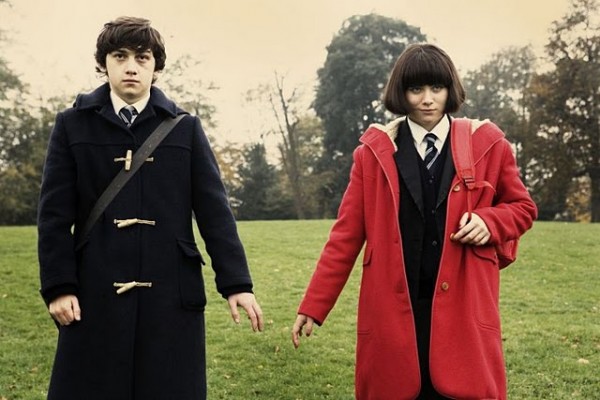 Submarine is set in a small town in Wales where sea and country clash with a post-industrial landscape. Oliver, our introverted hero, has several problems including an inability to communicate not helped by two introverted parents. His mother (played by an unrecognisable Sally Hawkins who is much better known for larger than life roles) is having a flirtation with an ex-boyfriend. Oliver (an amazing performance by Craig Roberts) is bullied at school but begins to develop something that's more than friendship with the problematic Jordana (Yasmin Paige who, like Roberts is 20 playing 15). Jordana is problematic because she's aggressive and a bit of a bully and also a bit of a pyromaniac albeit not in a way dangerous to life, limb, animals, or owned property. They both have problems (Jordana's is only revealed over halfway through and I'm not going to spoil it here) and each needs something from the other.
In case you're thinking that this sounds grim bleak and depressing, it's actually a comedy, just not a lighthearted one. Great script based on a novel by Joe Dunthorne, great directing by Richard Ayoade on his first film, and uniformly terrific acting.
Now I was going to do a compare and contrast so here goes. Apart from being comedies about teenagers, the two films are completely different and both are excellent in their own different ways. There you go, that's it. I'm done now.
Post Script.
Coming soon: a review of the DVD of HBO's Game of Thrones which isn't a comedy about teenagers..