Okay, this is a bit of a ramble through some of my favourite recent programmes on TV. I'm sharing the love with a dash of added snark.
Regular favourites are those two medical soaps, the long-running Casualty (BBC1, Saturdays) and the not-quite-so-long-running-it-just-feels-like-it spin-off Holby City (BBC1, Tuesdays). They may get a month's break about once a year but it's not really noticeable. I'm not a soap-fan and long ago lost what little interest I had in the UK's big three -Coronation Street, Eastenders, and Emmerdale- but I do like medical dramas and these two keep going by having large interesting and often changing casts.
Currently I'm more into Holby City because of its characters which includes my favourite, Frieda Petrenko (below) the Ukranian Goth-nurse with the waspish tongue and who was recently revealed to be -and is now employed as- a qualified doctor. Frieda is played by Ukranian-born Olga Fedori so at least the accent is genuine. She's just reappeared after a few weeks off to go to her father's funeral and has returned to meet several new workmates who include senior staff nurse Eddi McKee (played by the wonderful Sarah-Jane Potts (below on left). S-JP had a minor recurring but different role in Casualty a few years back. She's a terrific actress and best playing on the ball good humoured characters.) Frieda and Eddi immediately bond over their dislike of new trainee doctor the lovely Lulu (not shown) with the powerful daddy and who thinks the sun shines out of her arse. They are on the same ward with registrar Sasha Levy (Bob Barrett, below centre), the likeable bumbling but more astute than he seems Jewish doctor. Also shown in the photo below is new nurse Chantelle (Lauren Drummond) whose bubbly airhead manner masks a sensitive and surprising competence. And clearly I could go on for ages about this show, but this bunch are the main attraction for me.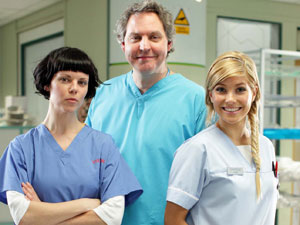 Casualty is okay at the moment, always watchable and should perk up with the addition of some characters two of which appeared in the last episode and three to start in the next.
I've written about Castle before, the show that wouldn't have had a second season were it not for the charismatic charm and self-deprecating wit of Nathan Fillion plus the chemistry with co-lead Stana Katic, and a good likeable supporting cast albeit I'm getting sick of the goody-goody daughter. It's one of the several shows I record and watch on a lunch time. If there's a choice of recorded stuff I have to say that Castle is always the first one I pick even though on many levels it's the least interesting. It's just so much fun. Last week was the season finale and Susan, who watched it a few days later and didn't realise she was watching a repeat, shouted to me about the climax. "They've killed the heroine!" They haven't of course, though I had to insist that she'd be back in the new series and there wouldn't be a new character. The episode brought (almost) to a conclusion the long-running subplot of the mystery of her mother's murder when it was revealed that a close and trusted colleague was involved -well, he definitely won't be back next season. The big question is: did Kate hear Castle's declaration of love before she passed out?
I've still to watch last week's episode of Torchwood. It started well but I'm finding it less and less compelling. For the final season, Smallville isn't exactly setting my TV alight. Last week's was a parallel world story where Clark Kent was raised as Clark Luthor and I found it so uninteresting I switched it off after about fifteen minutes. Sanctuary, a show I used to like, has been less interesting with its just finished third season.
Coming under the category of better than I expected, I'm finding Falling Skies (above) -aliens have invaded and they've won- quite watchable. We're up to episode 6 in the UK and I correctly and immediately spotted a new character as a traitor. There are hints that there's a lot more to learn about the aliens (and what that is can be easily found out by anyone looking for it on the Internet, though I'm trying to avoid this as much as I can). Definitely promising.

New series Body of Proof stars Dana Delany (probably the most beautiful 55 year old woman in the world) which is all anyone needs to know in order to watch it. Delany can steal scenes from Nathan Fillion so as far as I'm concerned this is another Castle. Delany was also in Desperate Housewives and got to kiss another favourite of mine Julie Benz. I thought I was in heaven.
I shouldn't really be reviewing the next show in this post as I've been watching it on DVD (nearly at the end of season 2) but it is a TV series. In the UK it's A Town Called Eureka (US: Eureka). Don't ask me why. I tried it when it first started four seasons ago but for some reason it didn't click with me. Then I saw Season 1 going cheap on Amazon and thought I'd give it a try. Who knows, I might strike lucky again as I did when bought Chuck Season 1. The bad news: it isn't as good as Chuck. The good news: very little on TV is as good as Chuck but this show is likable and engaging.
Again the Gods of Casting waved their magic wand by giving the lead role to Colin Ferguson who is perfect as Sheriff Jack Carter, an amiable sometimes bumbling everyman in a town full of tunnel-visioned genii (or geniuses, if you prefer) who can make connections they can't. There's Zoe, the rebellious teenage daughter. There's the will-they won't-they love interest Dr Allison Blake (unusually for American TV played by a mixed-race actress Salli-Richardson Whitfield). The nemesis Dr Nathan Stark, Allison's ex. And an all-round quality supporting cast most notably Joe Morton as a car mechanic who used to build space shuttles (and more complicated stuff besides) and Matt Frewer as an eccentric animal expert. Note: most of the inhabitants of Eureka are eccentric. I haven't mentioned the redhead in the photo below but you can work out who's who from the above.
Just one last thing. The DVDs for the first two seasons have no fucking subtitles which pisses the hell out of me.
On order from Amazon are the first two seasons of the highly regarded but little heard of over her hit US sitcom How I Met Your Mother. Every time I catch an episode I wonder why I don't watch it regularly. So now I'm playing catch up.
Can't think of anything else though I'm sure I will the second after I publish this post. Bye.