I watched this six part series on BBC3 last year and waited for the price of the DVD to come down to something reasonable before buying it. The first episode received a general panning from the critics and I was a bit iffy about it but things picked up in the second once the characters and the physical/emotional environment in which they lived became clearer.
The story revolves around three women: photographer
Frankie
(
Ruta Gedmintas
, front and centre above) a photographer who just arrived back from New York after two years; which upsets her ex-lover and old friend
Cat
(
Laura Fraser
, second row, right) an architect; though wannabe (and failing miserably) actress
Tess
(
Fiona Button
, second row left) is happy to see an old mate again. After an early hiccup, Cat starts seeing the slightly butch
Detective Sergeant Sam
(
Heather Peace
, back row, right) and Tess begins seeing the experimenting local tv presenter
Lou
(
Roxanne McKee
, back row left) who is on the rebound from an affair with a married man. The careless Frankie, an emotional mess, is looking into a puzzle about her birth and shags any woman she can get her hands on until she meets
Sadie
(
Natasha O'Keefe
) a slick and crazy estate agent. Other characters include: Cat's wannabe science fiction writer brother
Jay
(
Emun Elliott
) who is crazy in love with his best friend Tess and his sf novel turns out to be an allegory of their relationship; fellow architect
Ed (James Anthony Pearson)
an old straight male friend in the process of settling down with his girlfriend
Becky
(
Cush Jumbo
) but doing his best to screw up the relationship and everything else around him.
Oh yes, and it's set in Glasgow though at least (at least) half the cast have English accents.
In case you hadn't guessed, this is sort of a British answer to the American groundbreaking lesbian drama series The L Word.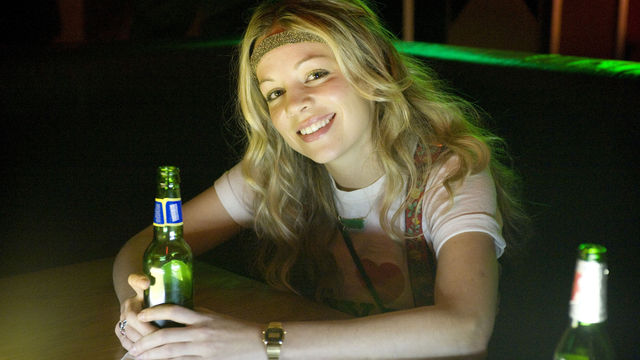 Fiona Button as Tess
Laura Fraser & Heather Peace (Cat & Sam's first kiss)
The cast is pretty good. I can't give an objective opinion about Ruta Gedmintas simply because I just hated her character even when she was being screwed up by her duplicitous bullying uncle which probably means she was pretty good. I absolutely love Fiona Button who is just a fantastic actress with a very flexible and mobile face which perfectly mirrors her thoughts. Button is just brilliant and I'll watch anything in future I come across with her in it. Her character is so sweet, funny, good-natured, and with lousy judgement in girlfriends, you can't help, like Jay, but adore her. Laura Fraser is already well known as a highly talented actress and she nails the part of the intense highly strung Cat to a T while making you sympathise with her. Heather Peace (the only member of the core cast who actually is gay and who turned down a role in Coronation Street to do this show) is wonderful as the sharp tough but vulnerable cop Sam who finds herself falling in love with Cat. I can't fault the rest of the cast either.
Will they or won't they get it on by the series' end?
Okay, let's stop ignoring the elephant in room and look straight at it. This is a drama (with comedy) about lesbians. How explicit is the sex? Answer: very, amazingly so. The style of it, however, reflects the emotional content (or lack of it). Cat and Sam's sex is often tender and loving as well as passionate. Tess and Lou is joyful fun, noisy and laughing. Ruta is rutting in a cold light. Explicit as it is, it never feels gratuitous or exploitative. It would have been a surprise had it been as the creator Harriet Braun (an experienced tv writer) is gay.
Technically it's very good with excellent location photography of Glasgow and I can't fault the frequent use of the songs played either, appropriate and also good music.
Because they weren't sure of getting a second series (they have, hurray!) it ends on several satisfactory notes which, while leaving several questions unanswered, makes it feel like a self-contained drama. You do, however, want to see these characters again. While the show is flawed and sometimes annoying, the story is generally good, the characters interesting, and the acting superb.