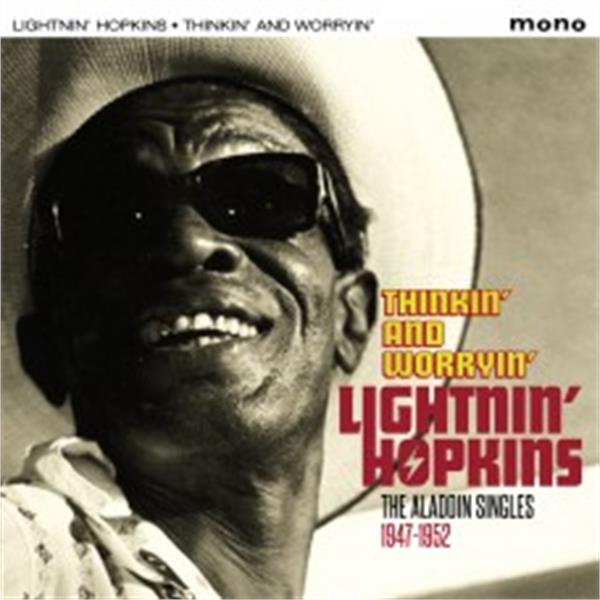 5* review. Title: Early days.
There's a lot to recommend about this 3-disc, 82-track set but recommending it to anyone who hasn't heard Lightnin' before isn't one of them. If you want to dabble your toes in his recordings, then it's best to start with a single-disc collection covering his entire career. And if you like that then, and only then get this one.

Presented in approximate chronological order (not all of the dates can be traced precisely) from his first solo recordings in 1946 through to 1954 when he was churning out top rate accompanied stuff, this is a comprehensive collection of his early days. There's a good essay by Neil Slaven whose appearance here can be taken as the veteran Blues writer's seal of approval for this set. The sound is sharp and clear to my ears. At this price it's also extremely good value.

Basically, for anyone wanting build a comprehensive collection of Lightnin's music, this is a very good, and for what you get, cheap place to start.
Post Script.
Since putting up that review on Amazon and listening to the CD a bit more I went looking on the All-Music Guide for stuff about Lightnin' and checked out some of his recommended CDs on Amazon. I knew there was a massive 7-disc box set with the title The Complete Prestige/Bluesville Recordings which turned out to be going for huge amounts of money (as in over a hundred quid new). I also noticed that Amazon were selling the entire set as an MP3 download for £14.99 which is a bargain by anyone's standards. Amazon do bargains like this -I checked for more- but not very often so they're worth grabbing when you can.

It fits together easily enough which is a good start and it does heat up in 15 seconds as it states (possibly even less) so there's no hanging about waiting to get started. It's slim and, therefore, easy to hide away in a convenient space.

It works fine on newly deposited material (like cat food) but is harder work for something that's stuck solid. Overall it's handy gadget and isn't expensive as long as you remember that you get what you pay for.
(NB: this was a freebie from Amazon Vine, as was the item below, so I didn't pay for it anyway.)
Argon Digital Radio With Ipod Dock. 5* review. Neat petite.
To be honest, I'm not much of a radio listener and the main attraction here was that it included an Ipod dock. This may now change.

Setting the thing up is absurdly easy and the short manual makes everything crystal clear -just like the sound from the radio itself. Tuning it in is a doddle and takes less than a minute. The Ipod dock aspect is fine as it recharges automatically and only takes a couple of presses of a button to get it into play mode. The controls are easy to use. In fact it's all so simple that you hardly even need to refer to the manual, though of course you should

It's extremely compact which means you can put it anywhere, as long as there's a socket nearby, and its black colour matches my Ipod. So basically I'm delighted with it. You want a DAB/Ipod dock combo? Look no further.
Post Script.
Mostly I get offered books (usually proof copies) and the occasional DVD screener copy (I have Beasts of the Southern Wild to watch), but now and then something really useful and this item was one of them.