I use the term drama very loosely as only one of them fits that description. And that's-
Skins. For the first time in four seasons, I'm not doing a weekly recap/review. I still like it but this third generation just hasn't grabbed me the way the previous two did. I'll say one thing for it though, it's unpredictable. Whether or not this is a good thing is debatable as they killed off the best character in the second episode of this new season (the adorable Grace) and in the third introduced a brand new character who seems to follow the rules of Luke Rhinehart's novel The Dice Man.
Rich and the long lamented Grace
A new season of Castle starts again tonight as does a half season of Fringe following a mid-season hiatus. The end of the last season of Castle had him declaring his love for Detective Kate Beckett as she lay dying, not that she'll die of course. I'll be really pissed off if she doesn't remember when she wakes up as this would be the worst form of cop out. Fringe with its parallel worlds and the marvellous John Noble as a literally mad scientist is just unmissable especially, as has long been expected, there is actually a third parallel world to complicate matters.
Thursday nights are great with
The Good Wife
,
Body of Proof
, and
Rizzoli and Isles
. The Good Wife is a terrific legal drama series with a marvellous ensemble cast. Body of Proof isn't brilliant but it does start the brilliant Dana Delany who makes anything worth watching. Rizzoli and Isles is (in my dreams and the dreams of many others: fact) a lesbian version of Castle, Sadly in the real world it's a mismatched buddy-buddy drama of female detective from a cop family and her eccentric dissecting doctor from an affluent family (but adopted!) friend.
In this season, The Not-So Good Wife
Sunday night is horror-fantasy night with the return of BBC3 series Being Human and HBO series True Blood. BH has gone for the change everything approach. One of the four main characters was killed of at the end of the previous series, one in between series plus the villain, and one in the first episode where we also meet another ghost-vampire-werewolf triad, new vamp villains, and a new future heroine who wants to kill her baby self in order to save the world. Jesus! TB is just more of the same if you assume that the same is everything changing from week to week. After 15 minutes in fairyland Sookie escapes to find a year has passed. Vampire Eric has secretly bought her house, her boyfriend is now King of Louisiana and a badass. Her best woman friend, the nutty Tara, has moved away to become a cage-fighter and a lesbian (yay!). Her sex-mad irresponsible brother is now a serious-minded cop. And more. Loved it.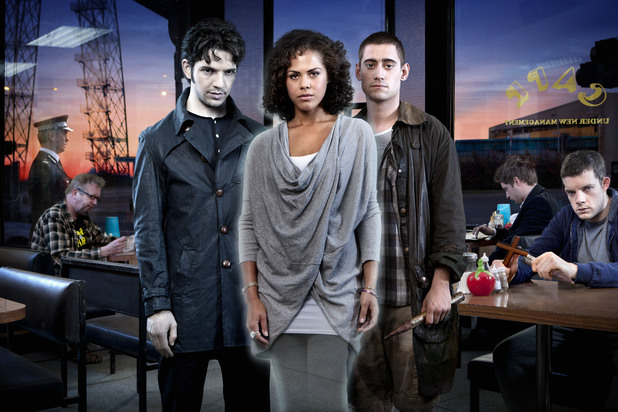 Couldn't find a pic of her snogging her girlfriend
What is it about me and TV series with strong attractive women in them? Coincidence? Are the best current series just happening to have strong attractive women characters? Who cares? These are all pretty good to great shows which I enjoy a lot. Me, I think TV as entertainment has never been better.
Post Script.
I'm also enjoying BBC1's Call The Midwife. Which is a bit out of my usual taste in TV but it is very well done.
Having the delightful Miranda Hart in a straight role doesn't hurt either.