Previously published on Amazon as a 5* review.
This Fables spin-off is not only the best of Fables spin-offs, it's actually better than Fables itself. The idea behind it is to tell background stories of the women of the Fables universe with tales of varying lengths. In this first volume we have a 6-parter and single issue story.

Wide Awake, the main story is an origin (the real one) of Sleeping Beauty aka Briar Rose and it's ingeniously done. Set after the fall of the Adversary in the main continuity, Ali Baba the self-acclaimed Prince of Thieves, frees an effrit, not a djinn as he hoped, who can only offer him knowledge rather than three wishes. The effrit, a highly intelligent and sophisticated imp, for reasons of his own encourages Ali to steal Sleeping Beauty's slumbering body from goblins who've captured her only to find that there are two sleeping women, both of whom he awakens. Unluckily for Ali, one of them is the Snow Queen, former right-hand woman for the Adversary, who has a penchant for listening to stories and she finds that of SB's most interesting.

What we have have here is, written by Fables mastermind Bill Willingham who is at the very top of his form, a delightful story itself, packed with wit, invention, action, and romance which expands on the background to the Fables stories.
The art by Phil Jiminez is to die for. He's emerged from his George Perez lookalike phase as a sophisticated artist in his own right. His men are handsome, his women gorgeous, his monsters and villains hideous. And I must add a note of appreciation for the rich and subtle colouring of Andrew Dalhouse which does so much to enhance the art. It's a disgrace his name isn't on the cover.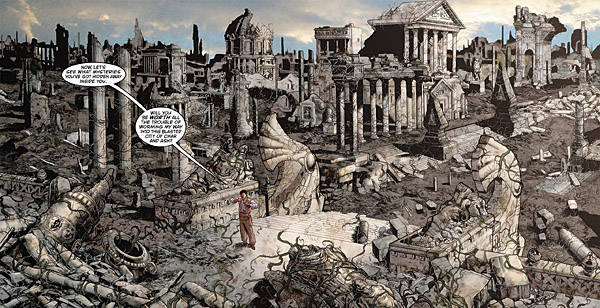 Set in the 1940's, the single-issue story is sepia coloured noir written by Matthew Sturges and illustrated by Shawn McManus. In it, a heavy-smoking Beast playing a hard-boiled private eye is hunting the Lamia, a serial-killing Fable, who has arrived in Lost Angeles. It's neat, nicely done and has a killer twist I wouldn't dream of spoiling.

If the creators of this title can maintain the standard set here, then us lucky readers are in for a feast of delights in the near future.