I'm a bit late writing about this show which appeared as a 4-part serial on ITV back in 2008, which is when I first saw it. I bought the DVD a year or so later and watched part of one episode before putting it back on the shelf in favour of.. I can't remember really but it was probably something with entrails and blood in it. Now I've just watched it over the last two evenings because I decided I needed a fix of the lovely Jemima Rooper.
The above image is appropriate because it's a still from Lost In Austen, the cover of the DVD of which is immediately below this sentence. And, yes, that is Gemma Arterton on the right and Alex Kingston, currently beloved of all SF geeks because of her role as River Song in Dr Who, on the left.
This was an odd sort of drama for me to watch at the time, and still is, as I've never read a Jane Austen novel in my life and have no desire to do so. Neither have I watched any version of Pride and Prejudice on tv or DVD and have equally no desire to do so. Put it down to the fact that I think Rooper is an underused and talented actress who has that special factor I've rabbitted on about in recent posts -that of likeability. I'll watch her in anything and first noticed her as a lesbian ghost in the short-lived Sky supernatural Buffy-cash in Hex, though she'd been in plenty before that as a child actor. She was also in an episode of Sugar Rush as lesbian singer with a love-the-one-you're-with attitude. At one point in LIA she declares herself (as does another character much to Amanda's surprise) to be a follower of Sappho.
For some reason, until I rewatched LIA this week, I'd had the impression that Rooper was a physically large (as in big, not fat) young woman so it was a surprise to realise that she's actually quite small, only 5ft 3ins. Probably because the roles I've seen her in give her a big personality which she expresses well and it's the same in Lost In Austen where she plays Amanda Price, a modern woman, who walks through a door and is trapped in the world of Pride and Prejudice at the beginning of the story because Elizabeth Bennett (the novel's heroine played by Gemma Arterton) wants to sample the delights of modern London.
Accepted as a friend of Elizabeth's, Amanda tries to keep the plot of the book (which she loves like no other) on track on to find her modern attitudes derail it completely. What happens next is an alternate universe version of the book which is probably better for people who know the story well than someone like me with only a vague awareness of it. Which isn't to say I didn't enjoy it because I did, a lot. But then it had a great cast which also included great British character actors like Hugh Bonneville (delightful as Mr Bennett) and Lindsay Duncan as Lady De Bourgh, the spider at the centre of her web. And Elliot Cowan is terrific as the brooding intolerant Darcy who profoundly dislikes the troublesome Amanda. Let's not forget the excellent Arterton, whose small but key role as Elizabeth displays the skills which has made her a new British superstar.
Rooper, a competent but not great actor herself, nevertheless has the prescence (and good dialogue) to hold her own in this company. I hoped that his would be the first of many leading roles for her but, although she always seems to be working (at least on stage if not on tv), this hasn't really happened. Some casting director should have the sense to put her in key role in a sitcom because I think she'd be brilliant in that kind of environment.
As for Lost In Austen itself, it's a charming romantic fantasy played with humour, written with faux-Austen dialogue, acted superbly by the talented cast. What's not to like? The DVD is available from Amazon for under seven quid and contains a 40 minute making of.
Here are a few pics from it.
Told you she was small.


Guy Henry, who currently stars in Holby City suddenly seems to be everything I watch including the penultimate Harry Potter movie.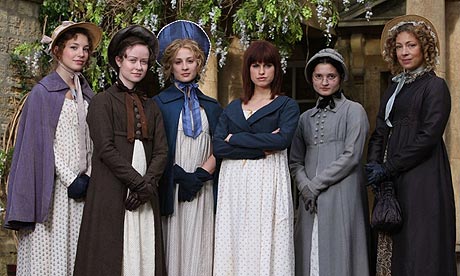 Bennetts assemble!


Gemma & Jemima