Or: A look at some releases on the Not Now Music label of compilations of public domain* music mostly from the 1950s.
Or: How an enthusiasm for electric guitar took me down some unexpected byways.
1. Introduction: When the world was monochrome.
I was born in 1948, we didn't get a television set until the mid-50s, our radio was limited to BBC stations, the only pop music show on TV (when we only had one channel) I can remember from that time is
The 6-5 Special
, and I didn't get a tranny (as in
transistor radio
, not the current usage) until about 1960-61 when I discovered the joys of
Radio Luxembourg
and, more or less, non stop pop music (plus
Garner Ted Armstrong
). I've also just remembered going regularly to the pictures (i.e. cinema) for the Saturday morning kids matinees where, before the show started, we used to sing pop songs with the words shown on the screen.
[At this point I'm going to interrupt myself. It's probably obvious that this post is being written and rewritten over several days and I'm looking at a number of these compilations on Amazon as I go. I've just discovered one which covers the era I mentioned above and bugger me if I can't remember a vast amount of names of the artists on it, more the names than the actual songs. Here it is-
When doing the search on Google Images it also threw up a number of similar compilations which I mention in case anyone is interested. Amazon threw up one called

Calypsos, Boogies, Rockers, Ballads and Bluebeat: The Rise of Black Music in Britain.

It's remarkable how many of those I remember and I may yet buy it. No image because the only one I could find was blurred.
So that was my mid to late 1950s.]
*

At least I assumed the music was in the public domain as several reviewers on Amazon state as much. However, after just doing a little checking, it would appear (in the US) that all music is issued after 1922 remains in copyright until 2067. Since writing that sentence I've discovered that there is European legislation putting recordings prior to 1963 in the public domain, That same legislation, I believe, has since been amended to stop a yearly increment which would otherwise have put The Beatles recordings there. I find this all very confusing and have mixed feelings about it. As a consumer, the more public domain stuff the better but on the other hand I don't believe still living artists should be deprived of income from their earlier work.
Interruption over. Please continue from the Introduction. Ta.
So, while I'm familiar with a number of artists on these CDs, I tended to discover them at various times (sometimes decades) after the original release of the tracks on display.
Whatever, I think it's fairly true to say that none of these recordings+ were taken from the original master tapes, even if they exist, but, probably, from the records themselves so the quality isn't perfect. That said, after playing one disc they sound very acceptable. But then I'm not an audiophile which is just as well as I'm partially deaf (dumb and blind kid who sure plays a mean pinball!) Sorry.
I should also note that Ace Records (UK) have an enormous range of reissues which covers much of what is reviewed here and their CDs have detailed authoritative sleeve notes and top quality remastering. But they're also notably more expensive.
+And they're all mono, though that's stating the obvious.
2. The CDs.
CD1
1. Misirlou Dick Dale
2. Three O'Clock Blues B.B. King
3. Rumble Link Wray & His Ray Men
4. Space Guitar Johnny "Guitar" Watson
5. Lightnin' Blues Lightnin' Slim
6. Waiting For Benny Charlie Christian
7. Cotton Pickin' Mickey Hawks & The Night Raiders
8. Susie Q Dale Hawkins
9. Dust My Broom Elmore James
10. On The Rocks Jimmy Raney
11. Raunchy Bill Justis
12. Blue Guitar Earl Hooker
13. Blue Guitar Stomp Leon McAuliffe
14. Ghost Riders In The Sky The Ramrods
15. Sleepwalk Santo & Johnny
16. Bye Bye Blues Les Paul & Mary Ford
17. Big Beat Boogie Bert Weedon
18. Walk Don't Run The Ventures
19. The Story Of My Life Guitar Slim
20. Mister Sandman Chet Atkins
21. Guitar Boogie Shuffle The Virtues
22. The James Bond Theme John Barry Seven
23. Treat Me Like I Treat You Eddie Burns
24. Spoonful Howlin' Wolf
25. Shakin' All Over Johnny Kidd & The Pirates
CD2
1. Johnny B. Goode Chuck Berry 2. Hide Away Freddie King 3. Have Guitar - Will Travel Scotty Moore Trio 4. West Coast Blues Wes Montgomery 5. Out Of Limits The Marketts 6. Taking Off (Inst) Milton Brown And His Musical Brownies 7. Miss Ann's Tempo Grant Green 8. Guitar Bustin' Arthur Smith 9. Nuages Django Reinhardt 10. Potato Peeler Bobby Gregg & His Friends 11. Guitar Shuffle Lowell Fulson 12. Ellis In Wonderland Herb Ellis 13. Freeze Albert Collins 14. Foot Patter The Fireballs
15. Travellin' To California Albert King
16. This Time The Dream's on Me Kenny Burrell
17. Teen Scene The Hunters
18. Mumblin' Guitar Bo Diddley
19. Chicken Wire Roy Clark
20. Lullaby Of The Leaves Mickey Baker
21. I'm Gonna Murder My Baby Pat Hare
22. Okie Dokie Stomp Clarence "Gatemouth" Brown
23. Jordu Barney Kessel
24. Shazam! Duane Eddy
25. Boogie Chillun John Lee Hooker
CD3
1. Green Onions Booker T. & The MG's 2. Old Joe Clark Speedy West & Jimmy Bryant 3. Sand Storm Johnny & The Hurricanes 4. Flying Fingers Joe Maphis (with Larry Collins) 5. Blues In B Flat The Oscar Moore Quartet 6. Blues After Hours Pee Wee Crayton 7. All Your Love Magic Sam 8. Her Love Rubbed Of Carl Perkins 9. The Beat The Rockin' R's 10. Strollin' With Bone T-Bone Walker 11. Yes Sir, That's My Baby! Dick Hyman, Mundell Lowe & Trigger Alpert 12. I Need You, Baby Eddie Kirkland 13. Liza (All The Clouds'll Roll Away) George Barnes 14. Jimmy's Rock Jimmy Reed 15. Have You Met Miss Jones George Van Eps 16. Apache The Shadows 17. Boogie Guitar Johnny Otis 18. Skippin' Buddy Guy 19. Yardbird Suite Tal Farlow 20. Mannish Boy Muddy Waters 21. Kissing In The Dark Memphis Minnie 22. Gonna Find My Baby Arthur "Big Boy" Crudup 23. Sweet Little Angel Tampa Red
24. I Can't Quit You Baby Otis Rush
25. The train kept a-rollin - Johnny Burnett
(List copied from a review by Glen Cook, with one correction. Amazon didn't include a list but Cook took the time to do it. Thanks.)
Read (fans of electric guitar only) that track list and go, as I did: Wow! Oh yeah, and it costs just over a fiver. Again: Wow!
And now that you have, find a similarly inclined friend and prepare to have a great fun argument about who is and who isn't a pioneer of electric guitar, who should be included but wasn't (bare in mind the cut off date of 1962) and who shouldn't but was.
Blues artists are, as they should be, well represented in this compilation -all three Kings, Memphis Minnie, Albert Collins, and many more. But I admit to being croggled when I saw the inclusion of Lightnin' Slim. Now Po' Lightnin' happens to be my uncontestable favourite obscure primitive electric bluesmen and one of my very favourite blues guys full stop. But not even his more rabid fans (such as myself) would claim that he was a pioneer of electric guitar or that any original ideas he had didn't come from someone else. I can only assume that the compiler is as fond of the guy as I am. "Blow your harmonica, son." There's also the inclusion of former Muddy Waters' guitarist Pat Hare with the tragically prophetic I'm Gonna Murder My Baby.
Checking out the names you come across Les Paul, Link Wray, Duane Eddy, Scotty Moore, Johnny Otis and people you'd never expect like Bert Weedon (snigger). Sorry, shouldn't have said that. Weedon and his book "Become a rock guitar god in fifteen seconds" (something like that anyway) was an enormous influence on just about every British guitar hero to emerge in the 60's, and by all account he was one of the nicest people you could wish to meet. I just can't get that line from a Bonzo Dog song -"We are normal and we dig Bert Weedon, hahaha."- out of my mind. There's also the John Barry Seven, The Shadows and Johnny Kidd & The Pirates holding up the British end. Track I really liked but hadn't heard before was Sand Storm by Johnny & the Hurricanes, a great driving instrumental.
So what we've got is a highly eclectic and highly enjoyable collection dating from 1935 - 1961 but mostly from the 50's. As with me, it's unlikely you'll like everything but you'll certainly like a lot and you'll certainly find stuff which will surprise and delight you.
CD1 1. Crazy Blues - Mamie Smith & Her Jazz Hounds 2. Black Snake Moan - Blind Lemon Jefferson 3. Blowin' The Blues - Sonny Terry 4. Wrong Woman Blues - Lonnie Johnson 5. 44. Blues - Roosevlet Sykes 6. Scarey Day Blues - Georgia Bill (Blind Willie Mctell) 7. Warehouse Man Blues - Champion jack Dupree 8. T.B. Blues - Victoria Spivey 9. Guitar Rag - Sylvester Weaver 10. Penetrating Blues - Martha Copeland 11. Texas alexander - Levee Camp Moan Blues - Texas Alexander 12. Sorrow Valley Blues - Irene Scruggs 13. Rolled From Side To Side Blues - Little Hat Jones 14. Irresistible Blues - Eva Taylor 15. Low Moaning Blues - Snitcher Roberts 16. Everywomans Blues - Rosa Henderson 17. Stand Up Suitcase Blues - Uncle Bud Walker 18. Your Jelly Roll Is Good - Alberta Hunter 19. That Lonesome Train Took My Baby Away - Charlie McCoy w/ Bo Carter 20. Walkin' Talkin' Blues - Sippie Wallace 21. Miss Ora Lee Blues - Peter Chatman & His Washboard Band 22. Muddy Water Blues - Papa Freddie 23. Something Going On Wrong - Peter Cleighton 24. Roll & Tumble Blues - Hambone willie newbern 25. Sitting On Top Of The World - Mississippi Sheiks CD2 1. Stack O Lee Blues - Mississippi John Hurt 2. When I Been Drinking Big Bill Broonzy 3. Double Trouble - Brownie McGhee 4. Pratt City Blues - Berth Chippie HIll 5. You Scolded Me And Drove Me From Your Door - Mississippi Bracey 6. When You Are Gone - Blind Boy Fuller 7. Me & My Chauffer - Memphis Minnie 8. St. Louis Blues - W. C Handy 9. Giving It Away - Birmingham Jug Band 10. Cow Cow Blues - Dora Carr 11. Lonesome Woman Blues - Rosetta Crawford 12. Panama Limited Blues - Esther Bigeou 13. A Woman Get's Tired Of One Man All The Time - Stovepipe & David Crockett 14. Blue Blood Blues - Blind Willie Dunn's Gin Bottle Four 15. Mean Low Blues - Blues Birdhead 16. Achin' Hearted Blues - Sara martin 17. Tickle Britches - Ed Macon & Tampa Joe 18. Worried Blues - Gladys Bentley 19. Bo Carter - Ants In My Pants 20. Evil Mama Blues - Ada Brown 21. Hard Scufflin' Blues - Little Buddy Doyle & Big Walter Horton 22. Fattenning Frogs For Snakes - Carrie Edwards 23. Canned Heat Blues - Sloppy Henry 24. If I Let You Get Away With It Once You'll Do It All The Time - Margaret Johnson 25. Parchman Farm Blues - Bukka White
And sometimes you buy something you realise you didn't really want. For some reason I had a bee in my bonnet that all these compilations were from the 50's whereas this blues collection is all acoustic stuff from the 20's to the 40's. It's perfectly good but I prefer electric blues. Memo to self: pay more attention.
If I wanted I could also have bought Essential Rockabilly collections from the RCA, Dot, Columbia, MGM, Decca, London America, and Imperial labels. But that way lies madness.
I mean, why would I want 400 tracks of something that is a fairly narrow musical sub genre which is basically a countrified version of the emerging Rock'n'Roll with the Blues taken out? It's very rhythmic, up-tempo with the guitar given prominence and a tendency for most of the male singers to sound like Elvis wannabees; maybe it was something in the water at the time. Whether it's a precursor of Country Rock is debatable. It's what I call primitive music in that it's direct, simple and unsubtle. It also happens to be enjoyable in its limited way and in small doses. So I picked this one on the grounds that it was probably the best of the lot. I mean, just look at the names on the CD cover -you can add Charlie Rich and Charlie Feathers as lesser known but important names (in other words, I've heard of them). Plus I've a fondness for Sun Records given Sam Phillips recording and promotion of Blues artists even if he did pretty much lose interest in them once he found Elvis.
Something often forgotten in these days when music is available as cheaply and easily as water from a tap, all the tracks on these CDs (not just Rockabilly) were originally released as singles and played to death while the buyer saved up to buy another one. They weren't, as Charles Shaar Murray pointed out in his book Blues On CD (way out of date but still interesting), intended to be listened to one after the other like eating peanuts or popcorn. So in this form it's inevitable that the parameters (or limitations if you will) become more obvious and the songs inevitably sound samey.
(And I'm skipping the track listings from this point. You know where to find them if you're interested.)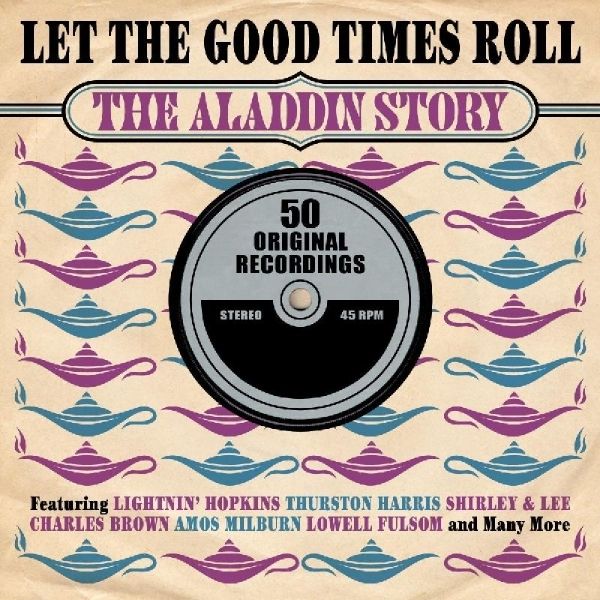 Coming out of post-war jump blues, jazz, and swing (Louis Jordan is here) is a collection of good time tracks running from 1947-1962. The inimitable Lightning Hopkins is in there too along with the more sophisticated Lowell Fulson holding up the Blues end which also includes the supper club Blues of Charles Brown. But mostly it's the West coast Black citified slick version of rock'n'roll with, as the compiler states, an emphasis on the the roll. And it's a whole very varied jumpin' load of fun. It's just good period pop. Interesting to compare it to the radically different Rockabilly. Me, I find its aesthetic much more appealing.
The 1950's were probably the last hurrah of the independent labels in the States as from the early 60's onwards more and more got bought up by what is known as the majors who were, much later, themselves swallowed by super giant megacorps like Sony and blandness ruled the world.
Federal Records, themselves a subsidiary of King Records, was, like just about every label with an all-black roster, run by white guys producing race records i.e. music by blacks for blacks, though that didn't stop hip white kids listening). In this case producer Ralph Bass with the assistance of Johnny Otis. Many people thought Otis was himself black but with a real name of Ioannis Veliotes er, no. But he could fake it very well and is one of the most important figures in popular music.
The overall dish here is black based rock'n'roll with a side order of R'n'B (not as it is understood today) and platter of Blues and Soul. It's more rocking (guitar) than the roll of Aladdin Records but if you like one...
There's more than the Blues to Vee-Jay (white owners/all black artists) but that's what it's primarily known for, especially the recordings of notorious label-hopper John Lee Hooker, but also Jimmy Reed, Billy Boy Arnold, and see above; but if you're looking for a Blues Vee-Jay collection I'd search elsewhere as this is more eclectic and not dissimilar to the Federal compilation above.
3. A Twist In The Tale.
I rather foreshadowed this at the beginning of this post but I listened to a few samples of a particular compilation and, bizarrely, bought it.
This is deeply ironic because it's music I generally had, at best, a perhaps condescending attitude towards it, believing it to be a crude even feeble attempt by British artists to imitate a far superior American product. Oh how I laughed at the names -Eager, Pride, Fury, Wilde, Faith, Steele.
Thank god for the Beatles and the Stones and the Searchers and the Hollies and all the rest of the emerging groups who consigned most of these bozos to the scrap heap. Only Cliff Richard managed to maintain a viable career over the following decades. Some, like Marty Wilde, maintained a career through 50's revival tours and by playing small clubs. Adam Faith, to the relief of many, went into acting and later became a financial wiz. Tommy Steele escaped into musicals. Shane Fenton reinvented himself in the 70's as Alvin Stardust. Many others just became the bloke next door. Billy Fury, a genuine talent, died young of heart failure.
And yet I still went and bought this-
-and had to change my mind. Well, a little, not a lot.
Some of it is exactly as I described it above. There's a Cliff track I've never heard of -Apron Strings- where he's blatantly imitating Elvis. And a few tracks later the obscure Don Lang sings an excruciating tribute to him -They Call Him Cliff.
But there is a vibrancy, an earnestness and some good singing among it. The opening track -Brand New Cadillac by Vince Taylor & the Playboys is, imitation or not (Cadillacs weren't exactly common even on the streets of London) is genuinely exciting. The second is Johnny Kidd and the Pirates on Restless, slower but with distinct similarities to Shaking All Over. Pity the rest of isn't as good, except intermittently, as these two openers.
The CD is actually not on a record label as such but is the product of rockhistory.co.uk a website devoted to promoting and developing a history of British pop music, particularly of the 1950's. Check it out.
4. In The End Is The Beginning.
This started out a few days ago as a review of Pioneers of the Electric Guitar, but, as a result of Amazon's recommendations, I ended up getting all the CDs I've just been talking about. At an average of less than a fiver each it was hardly breaking the bank. I've no regrets about buying any of them (except one which I've already sold). They'll be taking up permanent residence in the Animal Krackers van (see my cat rescuing blog) as they're great driving music and almost all the tracks are less than two and a half minutes long (which makes a change from 15 minute plus Grateful Dead jams).
But there's one last CD to mention which hasn't arrived yet.
Needless to say that most of these instrumentals are guitar led. There's a slight overlap with Pioneers, to which it works as a complementary piece. It includes the classic surfin' Pipeline by the Chantays but not, alas, Wipeout by the Surfaris. And,
with
Hank Marvin being an early idol of Neil Young's.
it feels like time to be listening to the Sha
dows again after a gap of decades.
5. In a future post.
The Greatest Lullabies Of All Time, 3-CD box set. Can't wait to listen to Baa Baa Black Sheep again*.
*That was a joke. What I really want is a CD with people like Russ Conway, Dickie Valentine, Winifred Atwell, and Kathy Kirby on it.**
**So was that.***