All four arrived within the last week providing me with around just over 2,000 pages of comics to read and a very mixed bunch they are. Except that as two of them are Marvel Science Fiction comics from the mid-70's, half of them aren't mixed. One of them is a funny animal collection of strips from 1949/1950 and the other is a compilation (the first in a series of four) from one of the American independent publishers (i.e. they aren't Marvel or DC). Let's see the covers.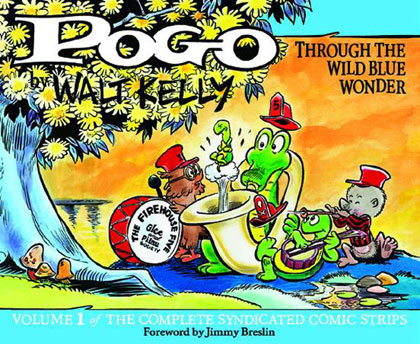 The two Essential volumes are massive b/w collections of two of my favourite Marvel comics from the 70's. Both, despite a superficial similarity in their covers, are very different in content. Killraven is a slightly enhanced human in the future world of 2019 when Earth is a mutated wasteland ruled by Martians. Warlock is a space opera action philosophical adventure in which our powerful hero battles against a corrupt future version of himself and then against the equally powerful Thanos who, as the name suggests, is in love with death.
Creatively, there's something else they have in common: you can ignore large chunks of the early issues and start reading when the writer/artists team of Don McGregor & P. Craig Russell (Killraven, actual title War of the Worlds) and writer/artist Jim Starlin (Warlock) take over. Both raised the quality of their titles immeasurably in comparison to previous issues and the Marvel output of the period in general.
Actually, to be fair that isn't completely true. War of the Worlds starts out with art by the legendary Neil Adams and a pre-legendary Howard Chaykin. Warlock begins with decent writer Roy Thomas and equally legendary Gil Kane but then they're replaced by Gerry Conway and Herb Trimpe, as ugly a combo as you could get in comics at the time.
They appear on cheap newsprint and at a price to match making them quite affordable. Warlock, the better of the two, doesn't suffer significantly from being in black and white as lots of it takes place in space, Killraven more so.
Grendel by Matt Wagner is a bit of an oddity. The initial story, Devil By The Deed, is a graphic novella revised from its original appearance as a backup piece is another series by Wagner. It's also a somewhat experimental piece consisting of typed text inserted into full page illustrations, ostensibly being extracts from a biography of Hunter Rose aka the criminal genius Grendel. The rest of the book fills in details of the story of Hunter Rose as collections of two series of short stories all written by Wagner but mostly illustrated by a diverse bunch of artists in varying formats from text heavy to nearly wordless and with varying degrees of success, culminating in Behold The Devil, a more conventional graphic novel written and illustrated by Wagner. Wagner's a better writer than artist but he does have an interesting and attractive style.
The format is a dense 600 page paperback slightly smaller than the original comics and re-coloured so as to be in black white and red. There are to be three more similarly sized volumes, featuring later incarnations of Grendel, to be published by Dark Horse over the next 16 months which means there's a very good chance I'll be alive to read them all.
Unlike the volumes in the next collection.
The paragraph which follows is from the opening to the Wikipaedia entry for Pogo which sums things up more concisely and accurately than I can; so if you can't do something better, steal it. (Incidentally the links work if you right click on them.)
Pogo combined both sophisticated wit and slapstick physical comedy in a heady mix of allegory, Irish poetry, literary whimsy, puns and wordplay, lushly detailed artwork and broad burlesque humor. The same series of strips can be enjoyed on different levels both by young children and savvy adults. The strip earned Kelly a Reuben Award in 1951.
I'm not sure I need to say anything else but I will.
This first volume covers the first couple of years of the strip and includes the Sunday colour strips. There are eleven more volumes to come, which brings me to my opening sentence. Fantagraphics Books are a prestigious publisher which believes that comics are art, just not all comics, and is openly elitist and mostly scornful of mainstream (predominantly super-hero) comics of Marvel & DC. They publish non-genre graphic novels (best exemplified by the Hernandez Brothers whom I'm sure I've written about in this blog) and collections of the best of American newspaper strips (hence, Pogo). They are also, however, notorious late when it comes to publication deadlines. I have two collections of the work of Basil Wolverton on order which were due out earlier this year but are now scheduled for April 2013. I'm 64 and not at all certain I'll live to see the publication of all 12 volumes of Pogo. Vol.2 is scheduled to be out by November this year. I'll believe it when I see it.
The book itself is a beautifully produced stitch bound hardback about 290pps long. There's an excellent introduction, detailed footnotes, and an article about the Sunday colour strips. This is nothing less than the strip deserves. It's charmingly drawn and contains warm humour, wit and wonderful wordplay. The satire doesn't come in for a couple of years and I'm especially looking forward to the (very) thinly disguised extended appearance of Senator Joe McCarthy, that vile witch-hunter of commies ('dirty reds'), in vol 3.
Meanwhile I'm enjoying what I've got.