I'm ill. I have to be. I'm not sure if it's a form of mental illness or physical, but I've come down with it. I can't think of any other reason for my behaviour to have changed so radically.
I, who have virtually no interest in watching sport, have come down with
Olympic Fever
.
It's Jessica!
I caught her live last night, powering home to win the 800 metres and simultaneously the gold medal for the heptathlon.
It's 17.00 on Sunday 5th of August and the first thing I did after waking from an afternoon nap was to log on to BBC News Online to look up the latest results which included two more golds, one for sailing, and the other for Andy Murray hammering Federer in the Men's Singles Finals (pity he didn't do that at Wimbledon this year, but let's not carp). It's too early for a full match report but I'll be checking up as soon as I finish writing this post.
I'm still not watching BBC1 for the full live coverage but I am watching BBC News 24 Channel very frequently as it's transformed itself into the London Olympics Highlights channel (emphasis on team GB) for the duration. Occasionally there is also still some real news.
I also surf the net for other sources of information about the Games, particularly other countries views which I find interesting.
Print media not so much as I only buy two papers a week -The Saturday Times and The Times on Sunday. Normally I ignore the Saturday sports reports and only open Sunday's sport supplement if Sunderland have been playing (football in the Premiership, in case you were wondering). This weekend I've read just about every word.
I love reading how friendly not just the volunteers have been to overseas visitors but the audience themselves who cheer on sports persons of other nations and gallant losers like the rower who had never been in a boat until six months ago. One young woman who wore the Dutch flag painted on per face was English and confessed to "feeling a bit Australian yesterday". Danny Boyle brilliantly portrayed our nation character in the Opening Ceremony (which must be capitalised) and now the general public attending the Games (it too) are doing it just as well. Proud to be British (but English in particular).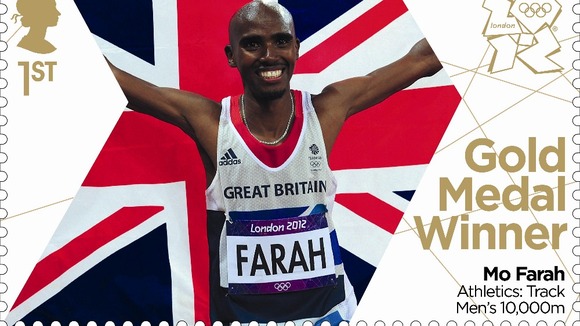 The Royal Mail are doing commemorative stamps for all gold medal winners which is a pretty great idea. Above is 29 year old Mo Farah who arrived from Somalia aged 8, could have been a trouble maker but was taken under the wing of a teacher who became a second father to him. Mo is married with a step-daughter and one of his own on the way. That's Britain for you.
Go Team GB!